Introduction
Welcome! Thanks for coming by – we are always happy to get a visit from long-time fans, company members and new friends. Edalene was dedicated to producing theatre that inspired, entertained and gave youth and community members a chance to perform high-quality multiage shows. Edalene Theatre was and is committed to fostering an environment of equity and diversity. We encouraged submissions from artists of all genders, ethnicities, abilities and identities and our shows and choices reflect that. We aimed to create an environment of positivity, encouragement and creativity for all.
If you have interested in producing one of our original productions-please contact me. Both Jump! and Rumours make excellent high school and community shows and both had sold out runs in Canada and overseas! Jump! has arrangements and choreography materials that come with it, should you wish to perform it with your company.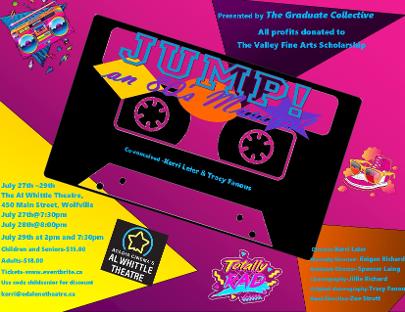 News!
In 2005, a York Theatre graduate returned to Nova Scotia to work at Neptune Theatre School. Surrounded by a group of talented fellow teachers, Kerri Leier started percolating an idea for a jukebox musical featuring 80s music, inspired by the films of John Hughes' Brat Pack. The idea was workshopped with teachers at Neptune, especially Tracy Nasson Fritz. JUMP!-an 80's Musical was born, Kerri created Edalene Theatre to officially produce the show.
In 2006, the show was produced on the old Queen Elizabeth High School stage to great accolades. Kerri moved to Wolfville and brought Edalene with her. JUMP! Was the first musical to be produced on the Al Whittle stage. It had a sold out run in 2007 and again in 2012. It was produced overseas at an International School shortly thereafter. A good portion of the actors involved with JUMP! went on to work professionally in the theatre industry. It incubated two critically acclaimed directors, writers, an international cosplayer, award winning playwrights, a Gemini award winner, an award winning choreographer, theatre technicians, lighting designers and more than a few professional actors.
Edalene produced two to three shows a year for the next 12 years at the Al Whittle. It offered classes, and ran a very successful Theatre Intensive Camp. Many of the actors who were in the productions, started out as campers in the Camp. In 2020, Edalene was preparing for our 15 anniversary of JUMP! Covid unexpectedly stopped everything.
Covid might have closed Edalene, but it also brought about a change that returned a number of former Edalene Alumni to the valley for the first time in many years.
The valley raises talent with heart-we need to foster it.
We don't want to just do a show, we want it to mean something.
An idea was formed: JUMP! could be performed over the summer with Edalene Alumni to raise money for students who wanted to study Fine Arts after high school. Want to know how YOU could get involved and help sponsor The Valley Fine Arts Scholarship? Click Here.
Do you have your tickets for JUMP! Get them here!!!
Past Productions
Check out our past productions, view pictures and see posters . We have grown a lot and invite you to join us and reflect on this journey.
Contact
For more information or to contact us click here