Introduction
Welcome! Thanks for coming by – we are always happy to get a visit from long-time fans, company members and new friends. Edalene is dedicated to producing theatre that inspires, entertains and gives youth and community members a chance to perform high-quality multiage shows. If you want to take part, please check out our upcoming auditions.
*If you have interested in producing one of our original productions-please contact me. Both Jump! and Rumours make excellent high school and community shows and both had sold out runs in Canada and overseas!
Upcoming Shows
Book Your tickets for Our 2018 Musical Production featuring props and costume from PHANTOM EFFECTS!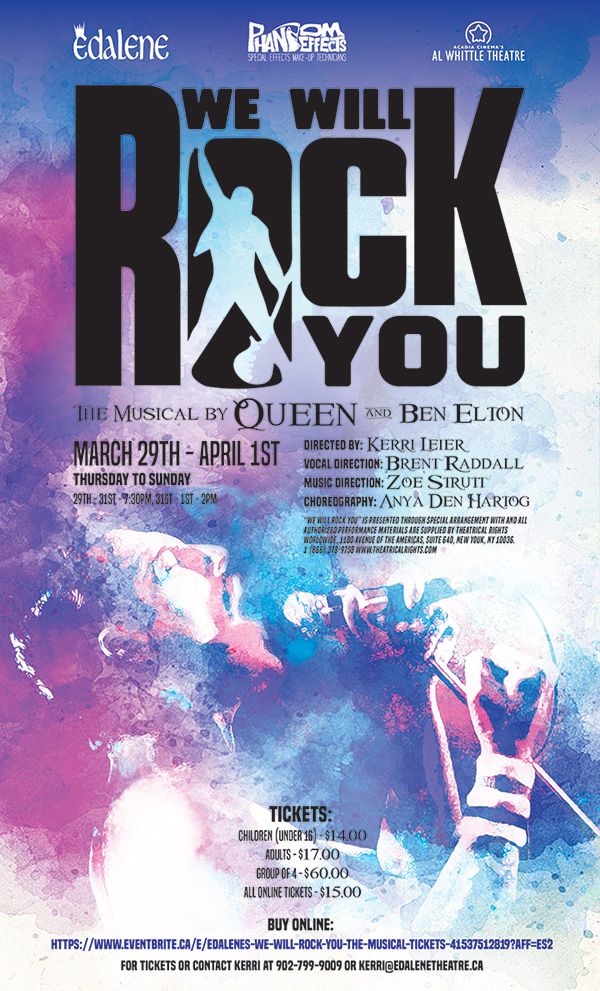 Set in a dystopic future where original music has been outlawed and the only sound is digital-a rebellious boy, Galileo Figaro and bohemian girl, Scaramouche strive to restore original music and defy the Killer Queen, with the help of other Bohemians. Directed by ri Leier, with props and costumes from Phantom Effects, a talented local cast of actors and musicians, vocal direction by Brent Raddall and choreography by Anya DenHartog, this show will entertain and have you singing along to all your favourite Queen Songs. It absolutely will Rock You!
Running March 29th-March 31st at 7:30 and a matinee on March 31st and April 1st at 2:00pm.
Tickets are $14.00 for children under 16. $17.00 for Adults and 4 for $60.00. All online tickets are $15.00
Buy your tickets here
Major Props to Jaimie Corbin from Phantom Effects for an AMAZING poster design!!!!
Theatre Classes
Our classes will be starting up in January, check out the line up
here t
o see what types of classes we offer.
Past Productions
Check out our past productions, view pictures and see posters . We have grown a lot and invite you to join us for this journey.
Contact
For more information or to contact us click here