Introduction
Welcome! Thanks for coming by – we are always happy to get a visit from long-time fans, company members and new friends. Edalene is dedicated to producing theatre that inspires, entertains and gives youth and community members a chance to perform high-quality multiage shows. If you want to take part, please check out our upcoming auditions.
*If you have interested in producing one of our original productions-please contact me. Both Jump! and Rumours make excellent high school and community shows and both had sold out runs in Canada and overseas!
Upcoming Shows And Auditions
Our next production will be the Addam's Family. Link to purchase tickets is below!
Edalene Theatre Intensive Camp presents The Addams Family. Based on the comic strip and later tv show and movies, this musical by Lippa, Brickman and Elice sees our beloved Addams Family on the brink of change. In one fateful, hilarious night, secrets are disclosed, relationships are tested, and the Addams family must face up to the one horrible thing they've managed to avoid for generations: change. This hilarious and entertaining show is performed by local talent that worked tirelessly over three weeks to bring it to life! With direction by Kerri Leier, Musical Direction by Lisa St Clair and choreography by Alexa Ewert-The Addams Family is not to be missed!!!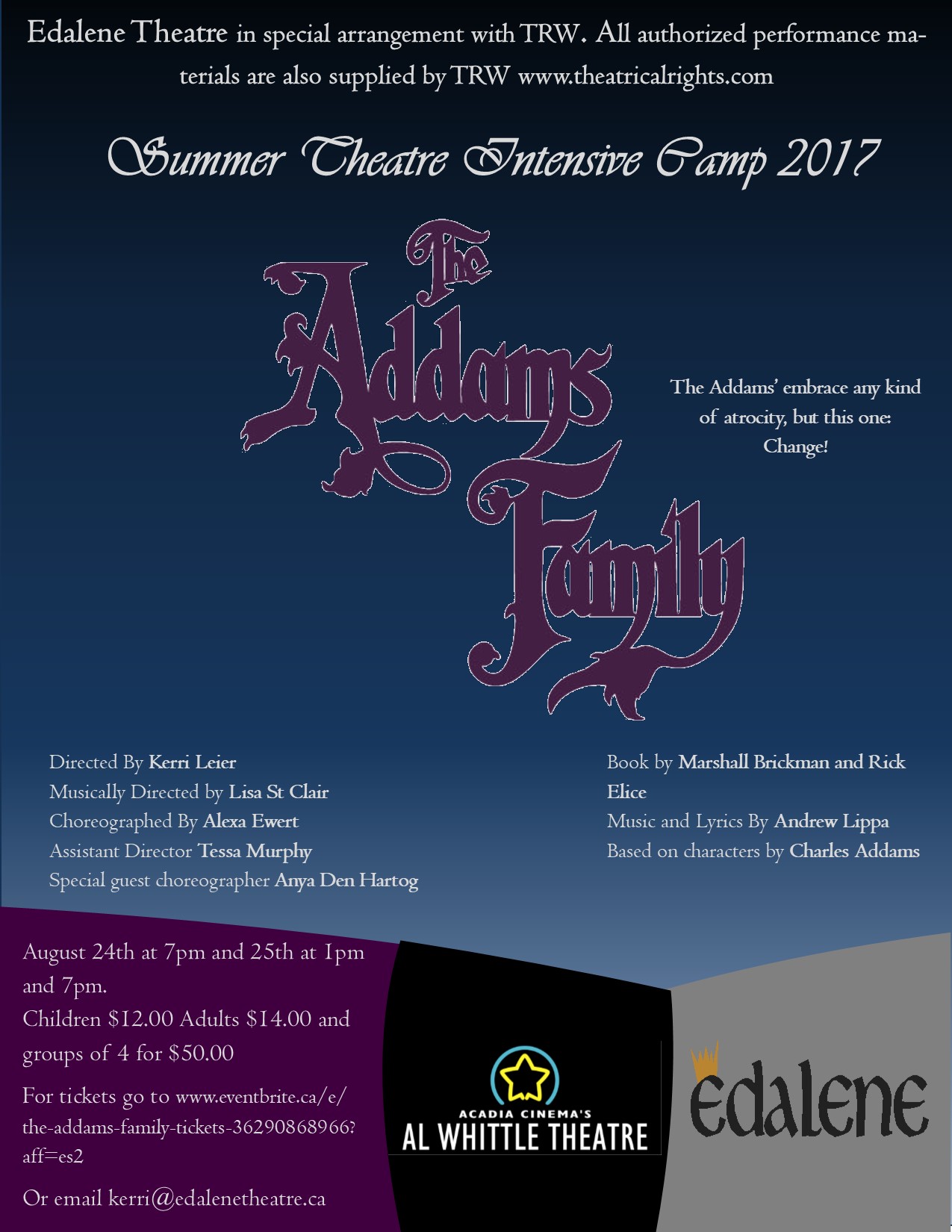 PURCHASE TICKETS HERE
* Auditions for the 2018 mainstage production will be on September 24th (Show is in March). We are excited to be producing WE WILL ROCK YOU!-the Queen musical all about fighting for originality in a dystopian, futuristic world. Want to audition or be involved? Contact me.
Theatre Classes
Our classes will be starting up in September, check out the line up
here t
o see what types of classes we offer.
Past Productions
Check out our past productions, view pictures and see posters . We have grown a lot and invite you to join us for this journey.
Contact
For more information or to contact us click here