Introduction
Welcome! Thanks for coming by – we are always happy to get a visit from long-time fans, company members and new friends. Edalene is dedicated to producing theatre that inspires, entertains and gives youth and community members a chance to perform high-quality multiage shows. If you want to take part, please check out our upcoming auditions.
*If you have interested in producing one of our original productions-please contact me. Both Jump! and Rumours make excellent high school and community shows and both had sold out runs in Canada and overseas!
Upcoming Shows
Come watch our amazing campers as they bring Camp Rock to life! Check out their PROMO
Auditions for Rumours will take place on August 19th from 3:30-6:30. Please email kerri@edalenetheatre.ca to book your audition
Please come join us for our adaptation of CAMP ROCK for our summer camp! Aspiring musician-Mickie-gets the opportunity of a lifetime to attend a legendary camp for future Rock Stars. Will she cave to the pressure of being cool-or learn to embrace being herself? Tickets are on sale now!!
Auditions for the adult parts and community chorus of Mamma Mia will be happening on August 21st from 6-9. This is a co-production with Horton High School and will take place over two weekends in late May. Below are a list of characters that director Mike Butler will be looking for on this particular audition date. Please contact Mike to book your audition.
TANYA: Former Dynamo (30-40's) and worldly divorcee
ROSIE: Former Dynamo (30-40's) world traveler and salt of the earth
HARRY BRIGHT: British Banker (30-40's)
BILL AUSTIN: World explorer (30-40's)
SAM CARMICHAEL: Architect (30-40's)
CHORUS- A mix of adult and youth to make up the chorus of islanders, wedding guests and resort workers.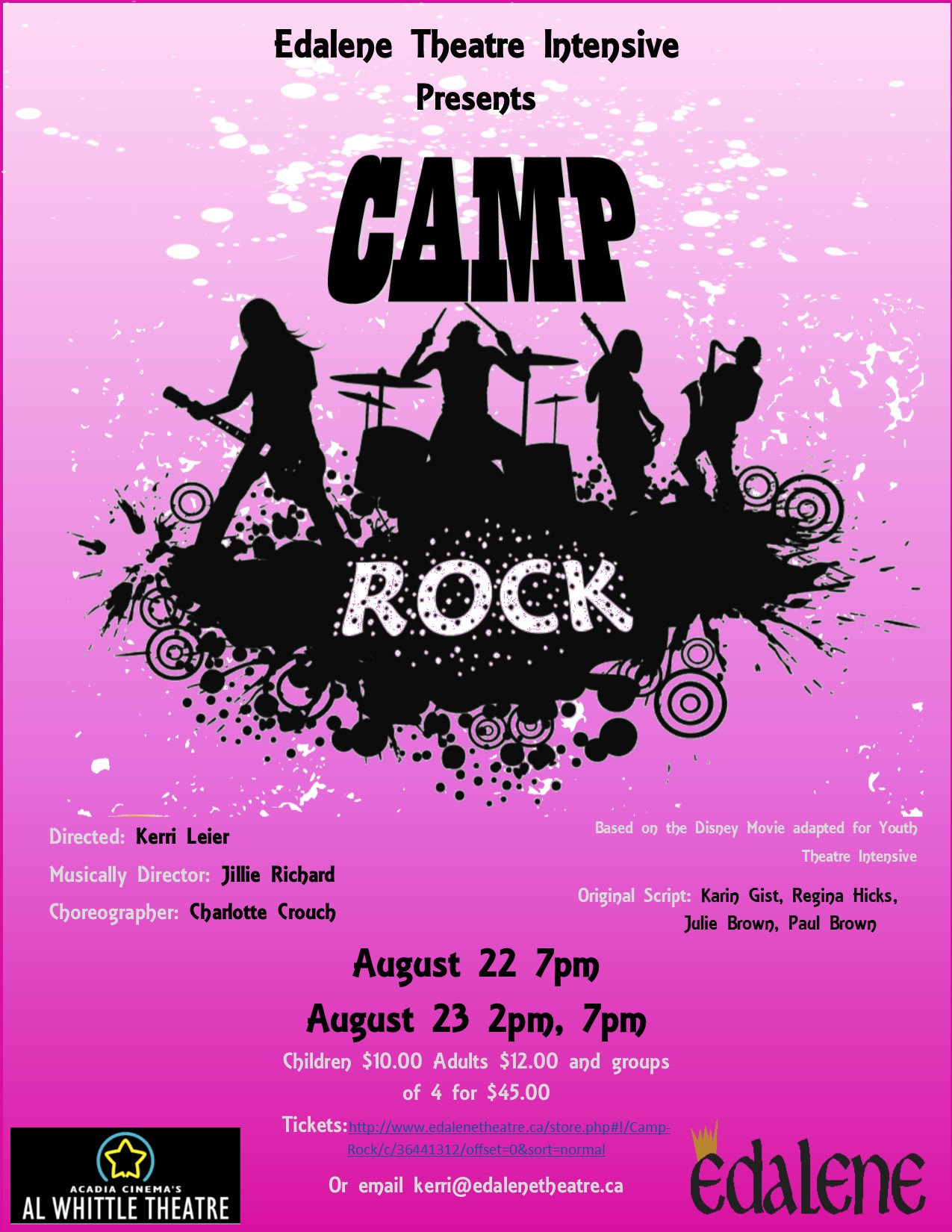 Up and Coming
Auditions for Horton and Edalene's production of Mamma Mia will be coming up soon. For the adult chorus, please keep checking back as auditions will most likely be in August.
Past Productions
Check out our past productions, view pictures and see posters . We have grown a lot and invite you to join us for this journey.
Contact
For more information or to contact us click here